WELCOME TO Travel Seasons
Travel Season Network is the Tanzanian tour company owned and operated within Tanzania and internationally with the team of professionals with experience. Our Travel Experts who manage our Office Operation and Safari Planning , they posses over 15 Years' of experience with Safaris & Holiday Planning including Mountain climbing. We organize safaris and tours, mountain climbing, cultural beach holidays and quick trips. We hold the slogan that WE TAKE YOU INTO ANOTHER LIVING NATURE despite the uniqueness in wildlife Safaris and Mountain trekking, beach travel OUR SERVICE makes us
OUR SERVICES Make Us irreplaceable as we invite and welcome Organizations, individual and students who are looking forward into conducting researches and studies on different areas of development from the African Culture like Traditional dances, cultural lifestyle and helping who are looking forward into organizing events like seminars, Volunteers and workshops aiming at social development.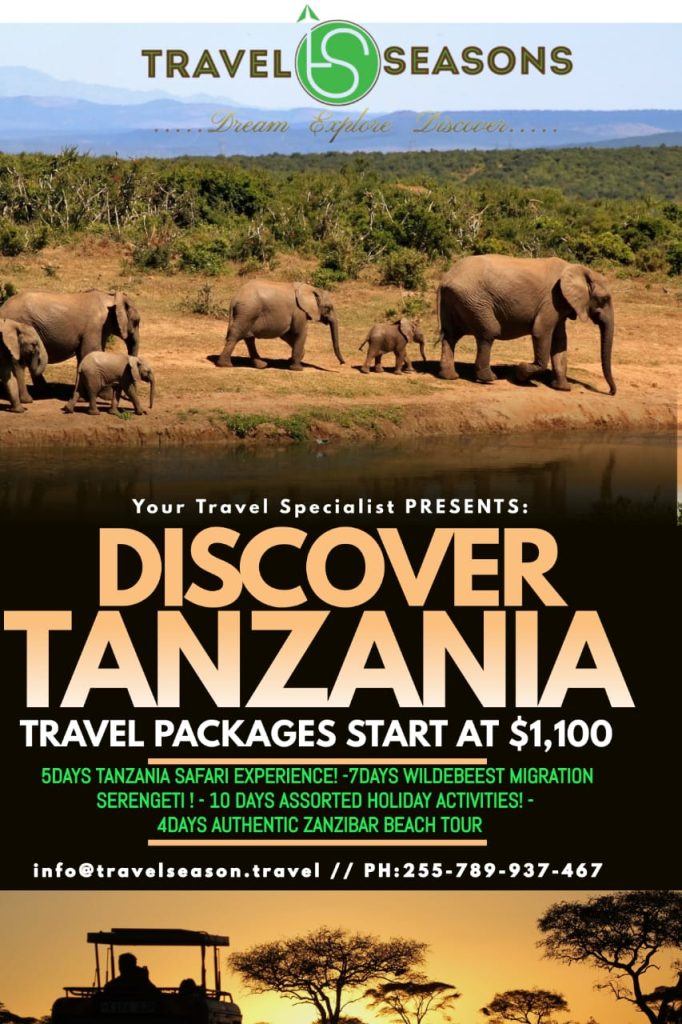 Know Our Safaris & Holiday Selection.
 The wide areas of the Serengeti; the snow-capped slopes of Mt Kilimanjaro; the vast wilderness of the Selous Reserve; the lakes, rivers and beaches, all inspire many variety safari experiences.
The choices are continuous, from Luxury safaris in top-of-the-line lodges to tented camps, and the adventure of mobile camping safaris. Walking tours, mountain climbing, cycling, quad biking, cultural visits, leisurely beach holidays, and more, can be put together in the perfect combination dat suits you and your needs.
We plan your dream holiday so that it is extraordinary yours, whether you are looking for the greatest in luxury and relaxation, or for active adventure in a good nature.
Our Professional Safari Guides
All of our walking and driver guides are expert with experience in the tourism. Some specialize in ornithology, (birds) others in ecology and animal behavior, but all have an exceptional common knowledge of the National Park and the animals. A driver/guides who is allocated to each safari are fluent in English and Kiswahili, with an in-depth knowledge of all kind of animal spotting, identification, and character.
Our mountain guides have all climbed Kilimanjaro many times through various mountain routes, and experience the mountain intimately. Professionally licensed, they are ever successful in their work of catch guest secured and pleasant to the mountain through their guidance and care.